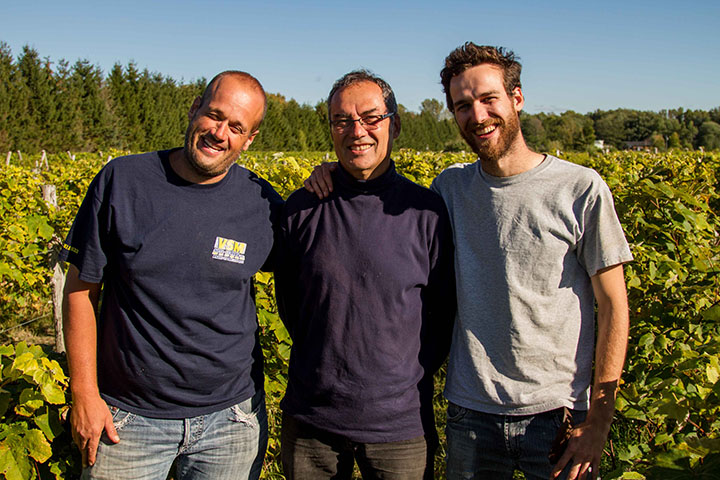 Our Philosophy
The vineyard is a beautiful family story, the one of a self-made father who shared his passion with his sommelier son. This vineyard's team wants to showcase the region and the terroir. The Quebec wine had to convey its own terroir's story, and not be the mere imitation of another. We are proud to produce a cool-climate wine, born out of coolness and tension. Our vineyard is human-sized and our production traditions are respectful of the environment. We have to be in balance with the plants, and thus we must observe and understand it. In order for our terroir to reveal itself, we believe we should use indigenous yeasts without disrupting the essence of the product.
Our History
- 1983: Luc plants his first vine at Saint-François-du-Lac (Center of Quebec)
- 1989: His first wine is produced
- 2010: He buys a plot at Yamachiche and plants 4000 wine plants.
- 2014: The first vintage wine, first planting of Chardonnay and first year for Robin
- 2015: The team plant two new grape varieties: Pinot Noir & Gamaret.
- 2017: A new variety is planted, Savagnin. David comes back from France to work on the Domain and the team organizes the official inauguration of the vineyard.
Why Yamachiche?
One of the most important thing for the vine is soil. Here, the soil is made of clay, as was Luc's micro-vineyard. Moreover, its pH is neutral, which is very rare in Quebec. There is also a beneficial role played by the Saint-Pierre lake: it protects the vineyard from big storms and from the spring's frost while delaying autumn's frost.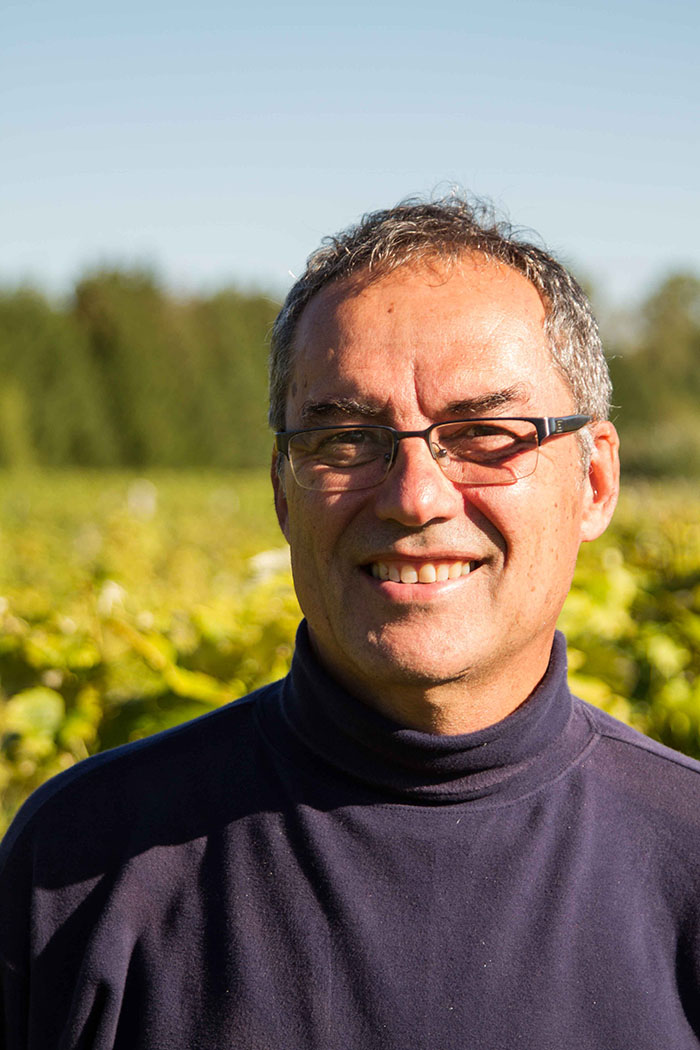 Luc - The Father
Luc is our Jedi Master. A self-taught man, he started to show an interest in wine before anyone else, and he now understands the Force within it. On top of being an excellent agricultural technician, he learned to understand how things work. His career started when he was just 15 years old, when a French wine-grower showed him how to make cherry wine. He soon began to secretly make his own in his closet, without his parents' knowledge. Since then, he's grown a taste for fermentation and plant matter. Back in 1983, he planted the vines that would produce his first grape wine in 1989, making him a wine pioneer in Quebec. He had spent all his life making wine and now dedicates his time teaching others how to make it.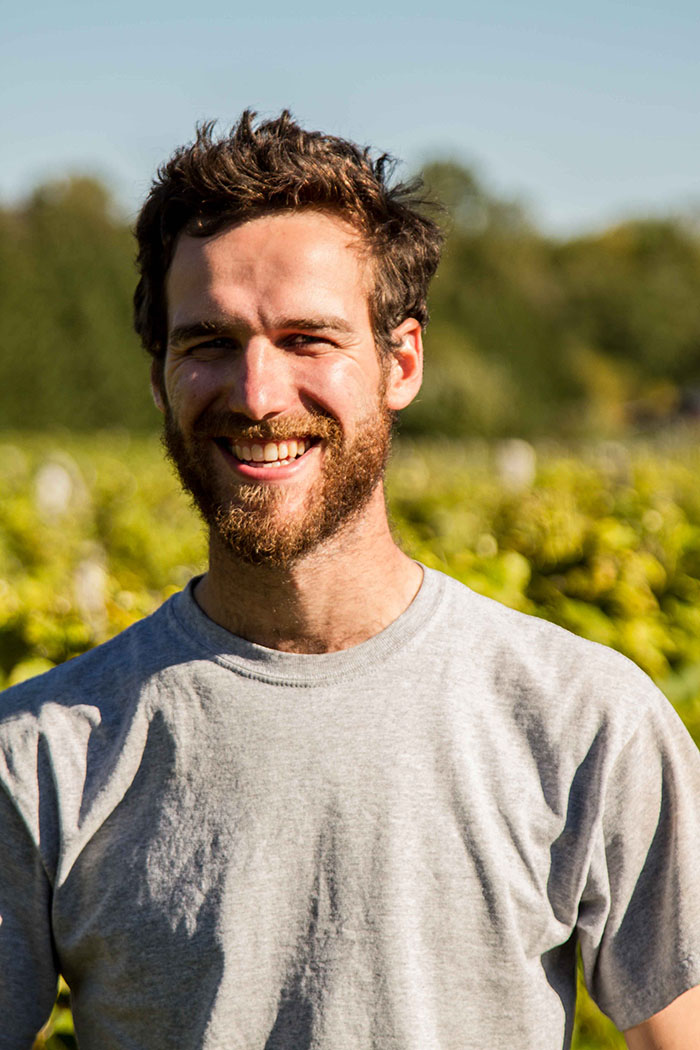 David - The Son
David is the Obelix of the vineyard (minus the pounds): he fell into the vat when he was only a small kid. He began picking and tread grapes when he learned how to walk. He has been involved in the vineyard since the beginning of 2010, but it was only in 2013 that he decided to quit his studies in Mechanical Engineering in order to take classes in wine waiting at the Institut de Tourisme et de l'Hôtellerie du Québec. He then perfected his training through an internship as a waiter at the Wickaninnish Inn, a Relais et Château in West Canada, another internship on the biodynamic vineyard of Olivier Pithon in Roussillon, France, and finally through an internship at Parisian three-star restaurant L'Epicure as a sommelier. David also won the young sommeliers Divin Défi contest and when he came back to Quebec, he worked for a year at Maison Boulud, at the Ritz-Carlton in Montreal. The following year, he went back to Paris to assist Marco Pelletier (former Chef Sommelier at Bristol Hotel) in opening his own restaurant, Vantre, which became famous during its first year for its impressive range of wines available, offering over 1300 different wines. After a year, David decided to return to his early passion.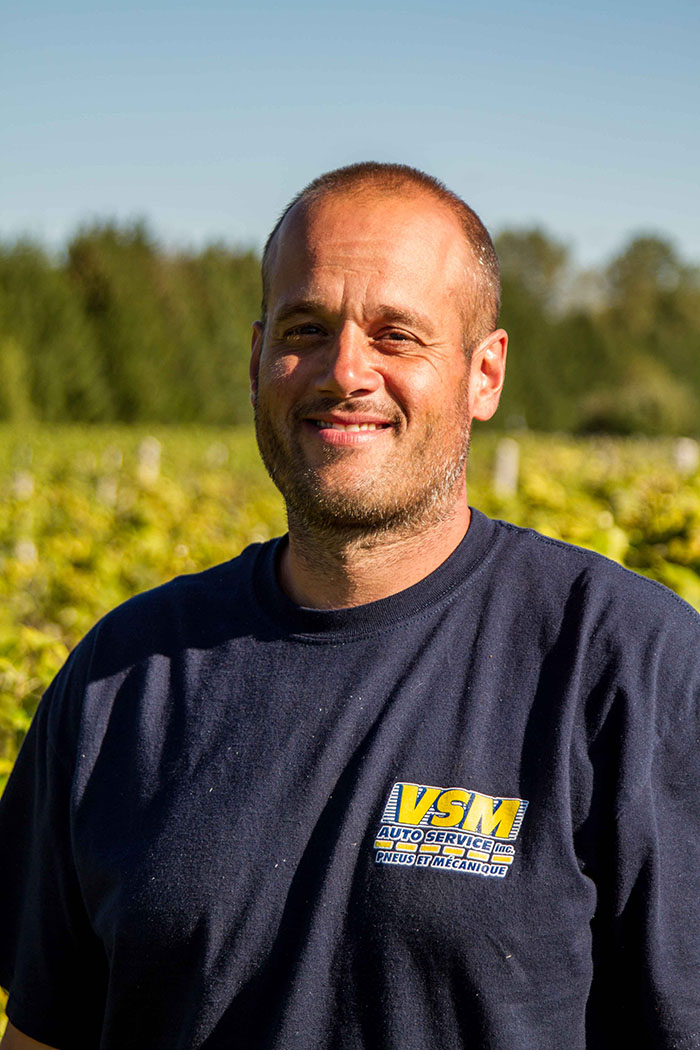 Robin - The Nephew
He's our Robin Hood in the body of Little John, except he doesn't have a hood and doesn't steal the rich people's money to give it to the poor. In the end, he just has his name in common, but also a fierce sense of loyalty and dedication. Robin has over 20 years of experience in agriculture and a sharp sense of plant observation.